What beauty of creation. A good feeling of life here, a few hours of respite from the harsh, demanding world. Give thanks for the precious moments.

---

Sweetwater staff are attentive and helpful. The hot tub/sauna and massage facilities are cozy, clean and relaxing. The rooms are located in the middle of the village and within easy walking distance to all our favorite shops and dining venues. . .

---

This was the best weekend getaway ever! I loved our cottage...
I especially loved how environmentally friendly and dog-friendly the inn was. They even had goodies for my doggie.

---

Charmingly Mendocino, not to mention quaint, cozy and romantic.

---

Two nights of pure bliss. We never imagined our time here would be quite so perfect. The people and the atmosphere are unforgettable, and we only wish that every day could be spent at Sweetwater Gardens.

---

Well, Sweetwater, we've grown older together, young lovers and old lovers, and it only gets better -- Thank God!

---
SweetWater Inn
Explore the Breathtaking Mendocino Coast!
Come to Mendocino for a calm and blissful vacation, a fun and friendly local experience, or for a breathtaking journey to one of the world's most scenic and beautiful places on the California north coast! We are ready to welcome you at Sweetwater Inn and Spa! Situated in the heart of the village of Mendocino, the Sweetwater Inn offers a variety of affordable lodging, including family-friendly, dog-friendly, and romantic options. Start your day with a fresh cup of hot coffee or tea from your room to embrace your day with new adventures!
Accommodations to choose from include dog-friendly cottages with gas fireplaces, hot tubs, kitchens or kitchenettes; historic water tower suites; cozy Victorian rooms; and other unique comfortable rooms or vacation rentals. We are confident that your selection will be relaxing, and you will surely enjoy our friendly atmosphere (not to mention a complimentary access to our private redwood hot tubs and saunas as well as discounted rates on massages at the Sweetwater Eco Spa!).
Sweetwater Eco Spa
Rejuvenate Yourself
With its rustic charm, soothing atmosphere, and comfortable facilities, Sweetwater Eco Spa is the perfect place to let stress fade away so that you can emerge refreshed and rejuvenated. Choose from our outdoor redwood hot tubs (private), infrared and traditional saunas, and a variety of massage traditions, courtesy of our outstanding team of professionals.

Our Inn guests enjoy complimentary access to our private  redwood hot tubs and saunas from
11:00 am to 10:00 pm every day.

Sweetwater Properties
Check out our other properties for your stay with great locations and the option of bed and breakfast or a vacation rental for your group.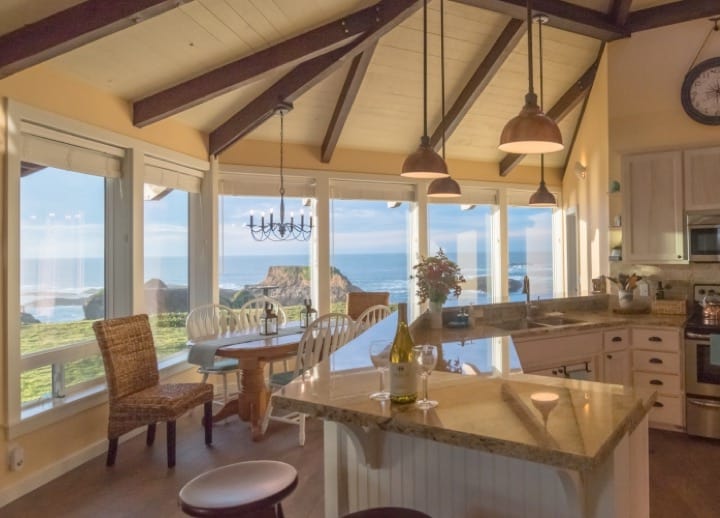 Sweetwater Vacation Home Rentals
Sweetwater Vacation Home Rentals offers a variety of exclusive vacation rental properties along the Mendocino coast. Our portfolio of vacation rentals includes a variety of desirable properties ranging from a spacious and unobstructed ocean-front home in south Caspar to a clear-heart Redwood Cottage in a quiet location near the town of Mendocino. Additionally, we have king suites overlooking the village of Mendocino, and a bungalow with a view of the enchanted Pacific Ocean in nearby Little River.
Lose yourself in the romantic natural setting of our Mendocino coastline made up of rock cliffs, ocean waves, beaches, sea lions, seagulls, and the redwoods to experience a memorable vacation of a lifetime. Make your memories today!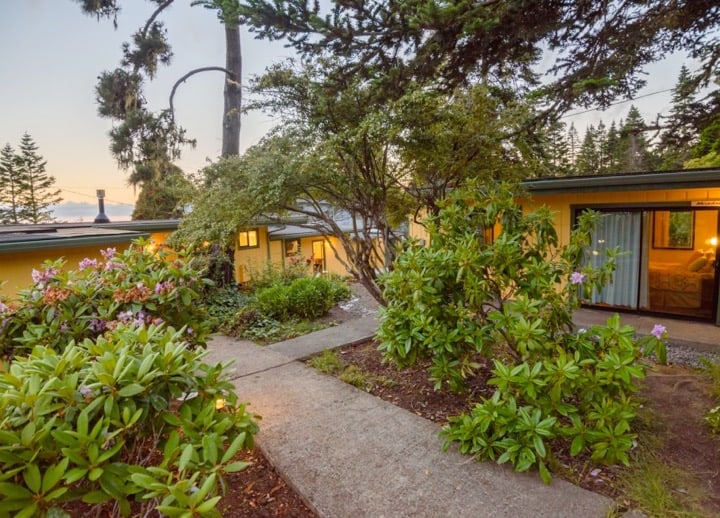 The Inn at Buckhorn Cove
This renovated Inn features accommodations from two to four travelers and all rooms are dog friendly! Our rooms are equipped with large flat screen TV's, satellite TV, Wi-Fi, gas fireplace or stove, a snack area or a full kitchen, showers, or shower and bathtub combinations, or a Jacuzzi tub. All rooms have sitting areas outdoors to enjoy the fresh air, non-shared ventilation, and each room has their own private entrance and free parking space. *Base rate does not include the Pet Fee or tax.
Sweetwater Inn 
 44840 Main St, Mendocino, CA 95460
Sweetwater Inn is the bright yellow Victorian at 44840 Main St, a block and a half into town from the south entrance to Mendocino.
Innkeeper Hours: 10:00 AM to 6:00 PM
Sweetwater Eco Spa
955 Ukiah St, Mendocino, CA 95460
Our main spa facility is located in the redwood building next to Luna Trattoria at 955 Ukiah St.
Spa Hours: 11:00 AM to 10:00 PM
Sweetwater Inn
44840 Main St Mendocino, CA 95460
Sweetwater Spa
955 Ukiah St, Mendocino, CA 95460
What are you waiting for?